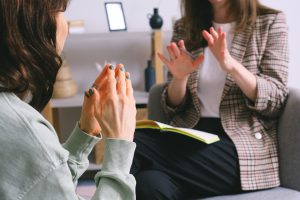 Community Counseling:
We provide professional mental health counseling services to men, women, children, adolescents, couples, and families. We seek to help our clients find hope and healing through all of life's challenges including:
Abuse Recovery
Addiction Recovery
Anxiety
Anger Issues
Bipolar Disorder
Depression
Divorce Recovery
Eating Disorders
Family Issues
Grief and Loss
Marital Issues
Men's Issues
Parenting
Personal Growth
Post-partum Challenges
Self-Esteem
Stress Management
Spiritual Growth
Trauma Recovery
Women's Issues
Sessions may be done in person or via online telehealth video. We charge $25 per 50-minute session; but, if that is not affordable, we negotiate an affordable fee. We strive for all our clients to invest in their treatment, however small the amount, in order to foster personal responsibility and commitment. That said, no one is turned away for inability to pay. We are committed to making professional mental health treatment within financial reach of anyone in need.
New clients can download and print new client paperwork below:
Counseling Intake Form AND Counseling Consent Packet
If you are currently receiving counseling services at Hope Alive and wish to pay for your services online, you may use the button below:
Internships:
Our counseling program is staffed by one professionally licensed counselor in addition to multiple masters-level counseling interns. Our interns, having completed the majority of their coursework necessary for obtaining a Master's Degree in Counseling, Social Work, or a related field, complete clinical practice hours required by their universities and the State of Indiana prior to graduation and licensure. Our interns meet with our licensed counselor weekly for clinical supervision and support.
If you are interested in Hope Alive's Internship Program and are pursing a Master's Degree in Counseling, Social Work, or a related field, we'd love to hear from you! We accept resumes on an ongoing basis. Please contact our clinical supervisor at DawnE@hopealivefortwayne.org for more information.